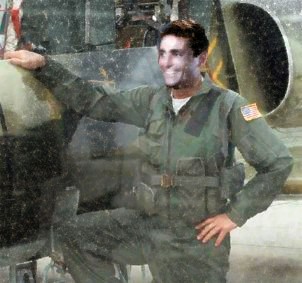 A little advanced flight training with the Navy
They called me the 'Old Man' which is my right aboard Seaview as her Captain, but not aboard the Enterprise!
Old Man indeed, but I sure felt it literally, surrounded by all those young hot shots on the flight deck and in the wild blue yonder.
Had to satisfy the Navy's regs to be a certified jet fighter aviator to captain the Flying Sub. They just couldn't believe she wasn't designed to fly like a normal aircraft. But I had no choice. So up I went, after a crash course (knock on my helmet!) at flight school to an abrieviated practicum aboard the flattop.
One thing I did learn, other than how to handle the latest in military jet fighters in all weathers and arial combat, I still get seasick aboard surface craft!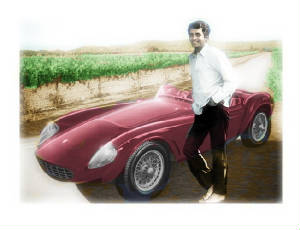 My 'other' baby
I'm often kidded about my 'other baby' by my shipmates. This picture just doesn't do her justice.
I think it must have been the filter in that new digital camera Lola used. She's (the Alpha Romera-not Lola)more a cherry or Corvette red. In this picture, which has something called 'diffuse glow', makes her look a bit on the maroon side. Cheech, sometimes I hate tehnology!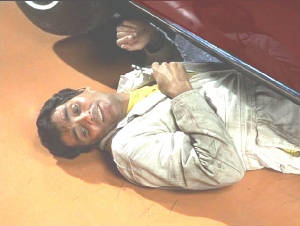 A little quality time with my baby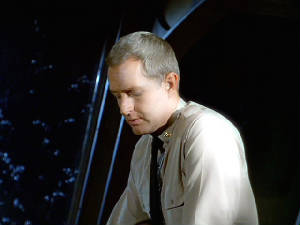 Portrait of Chip
When I told Chip I wanted to take a picture portrait of Seaview's XO, contemplating some emergency or other, he could barely hold still. I had to keep telling him 'grim, Chip, be grim'! Didn't turn out too badly.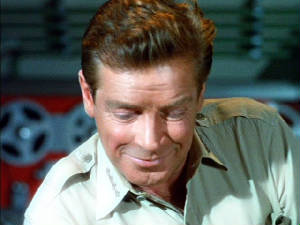 Portrait of Harry
I don't remember now, what he was grinning about, but this is one of my favorite pictures of Harry. Taken aboard Seaview.
Harry in civies! Will wonders never cease?
I don't remember the name of the place now, but Harry and I had a good meal at one of the oldest places to eat in Boston, let alone the States. Will have to jot down more about a little paranormal experience we had in the place, not to mention in Boston.