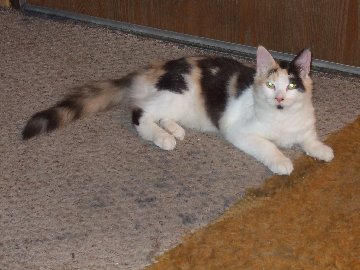 Chloe
Chloe at 4 1/2 months.
My niece takes in stray litters - usually born under her front porch by feral cats - as soon and as early in age as she can. She raises them and socializes them until they are old enough for new homes. Chloe is from a litter that was rescued from under her father's (my brother's) garage.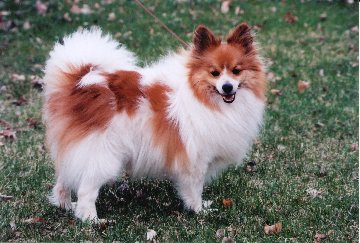 DJ
DJ is a Papillon
DJ was turned into the shelter when he was aprox. 3 years old, his elderly owner no longer able to take care of him. I've had him now for about 6 years.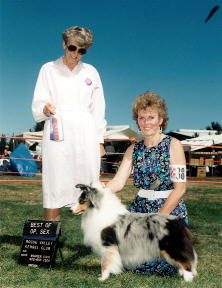 The late Champion A. A. Kelnook Crysalis (Lacey in Favor for a Friend) a blue merle Shetland Sheepdog, one of my first shelties, and great great great aunt to Daniel and Salem.
She stole my heart as a newborn puppy, and enchanted my life for 12 ½ years.
At the show: Winners Bitch, Best of Winners, Best of Opposite Sex. Shown by then Handler, and always very dear friend, Sylvia Calderwood. Judge: Marion Hodesson



Salem & Daniel
Left to right, Champion Kelnook Witch's Brew (Salem), me, Champion Kelnook's Devil to Pay (Daniel) on the day we celebrated their 13th birthday.
Daniel and Salem are AKC champions (anyone who knows about showing dogs understands what's required to earn the points necessary to become champions, and probably no one else cares <ggggg> ) I bred the litter - they are Shetland Sheepdogs. Daniel is sable-colored, Salem is tri-colored.