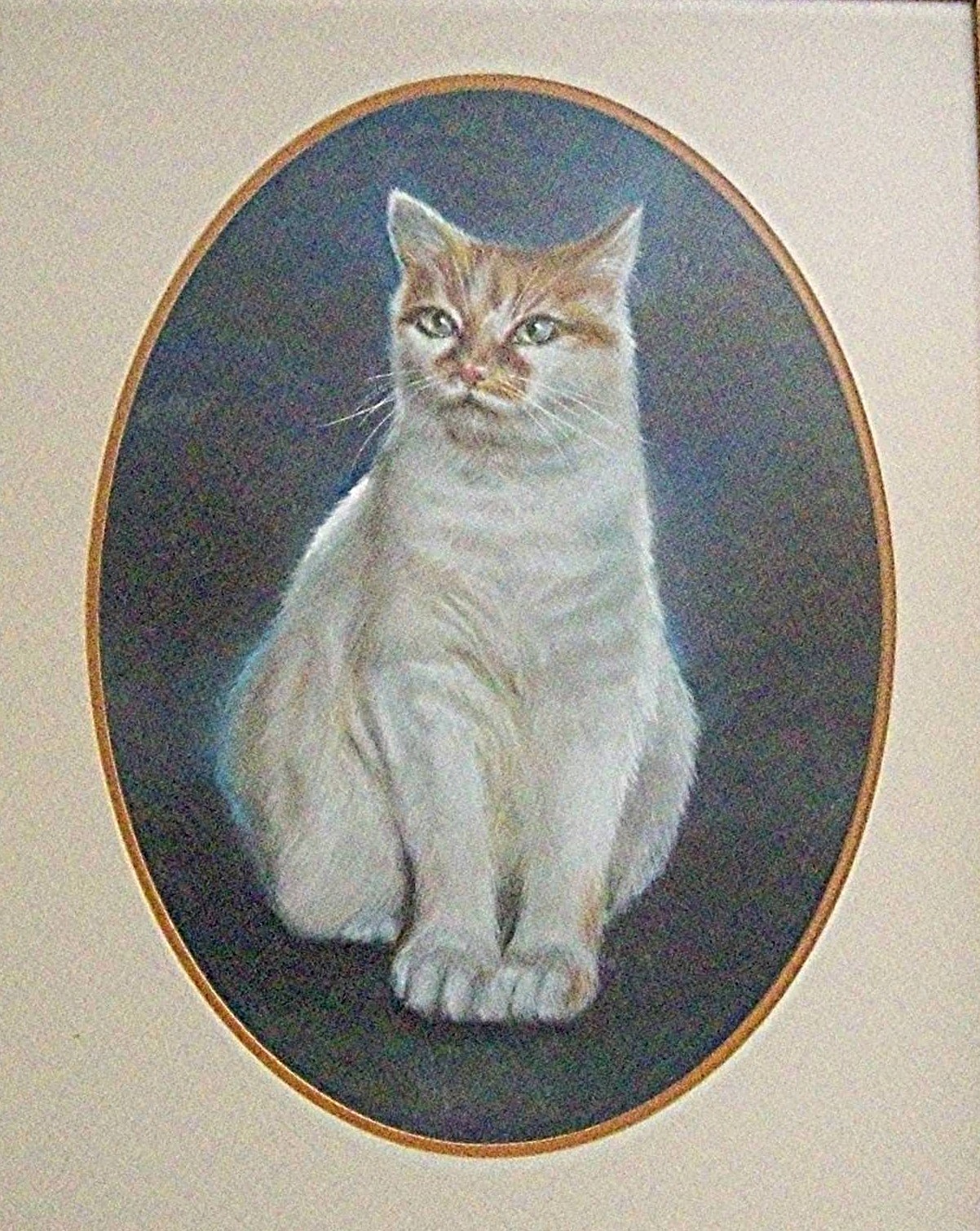 Buttercup aka Kitty
Name: Buttercup aka Kitty (What else)
Born: Topeka, Kansas
Residences: Kansas, England, Texas, Florida
We were in Topeka, Kansas at the time. My Air Force dad hesitated adopting my baby kitty citing that if he were transferred to England, all animals except horses (go figure) had to undergo quarentine for 6 months.
But we went ahead and 'Buttercup', who became 'Kitty' and remained 'Kitty for the rest of her 18 years), found herself, after a kittenhood and young adulthood in Tornado Alley, being shipped, along with me, at great expense (I was no longer an military dependant) accross the pond when, yep, Dad's next assignment was as Vice Commander of Third Air Force, which happened to be in Mildenhall, England.
Quarentine, though a kind of incarceration*, was probably more of a resort spa for her. Huge bowls of freshly caught North Sea cod graced her food dish in the special kennels every day. Caretakers gave their charges lots of loving petting time and at least our visits found her growing fat and happy. Would she ever want to return to the belly of her family?
At last, she returned 'home', temporary as all Air Force assignements are (I never had a home state until after Dad retired), and resumed her favorite perch on my shoulders like a stole as I went about my daily chores. (I was on a year's sabbatical, I guess you could call it, from seeking my Bachelor's Degree from Florida State. ( When I resumed my studies, my baby kitty remained with Mom and Dad until they transferred to Texas, where I joined them after graduation.)
Now, it must be understood that my cat had no hesitation on using her fully equipped fangs and claws on us when inclined to fuss or fume about one thing or another. So when my Mom got a puppy, we held our collective breaths.
We shouldn't have worried. 'Buttercup' took over as a surrogate mother for the dachsie and if Poppy got a bit rambunctions simply held her down with a fully sheathed paw, as if to say. 'Tiime out, kid.'
Kitty seemed to adapt well enough when Dad was transferred to Texas, and later to Florida where my Dad finally retired.
Unfortunately, fleas are a real problem in Florida, even for a rather 'indoor' cat. It was a relief to learn the Veterinary staff hadn't suffered any maiming when giving her her first 'flea dip bath'. She smelled good too and in time, and repeated dips, the fleas hardly bothered her at all, or she was growing too old to notice.
Lizards were another problem.They seemed to be able to slither under doors and through the edges of closed windows. Fun to stalk, play with and eat, but with a resulting foaming mouth worse than any hairball.
In any case the years flew by before we knew it, she sucumbed to several debilitating illnesses and died at the ripe old age of 18 having had a full life and a loving home. I still miss my 'Kansas Kitty'.